Activision Anthology Remix

Posted Wednesday, January 30, 2008 by Rasty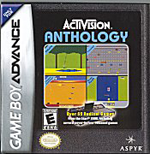 Activision Anthology Remix Edition is a commercial release from Activision which packages an Atari 2600 emulator for the GameBoy Advance along with a very good amount of games, including my homebrew Space Treat.

The emulation is a real piece of art and manages to almost perfectly recreate the 2600's behaviour on the really limited GBA's hardware (limited CPU mostly).

It's really great to have a portable 2600 emulator!


+Previous Posts